I hope you're not getting sick of book tags yet because there are more to come for sure!! 😅😊 This time I was tagged by *Drumroll* Lara @ The Heathen! Is this even a surprise to y'all anymore? Thank you so much Lara! Lara is always so supportive and her blog has great and important content so definitely go check out her blog!
Do it!!
What was the last book you marked as read?
A Love Like Ours by Micalea Smeltzer
I actually finished this book a few days ago and I have been wanting post the review but I can't get anything done currently! School's keeping me so busy, but I hope I can get it out to y'all soon anyways!
What are you currently reading?
Winter by Marissa Meyer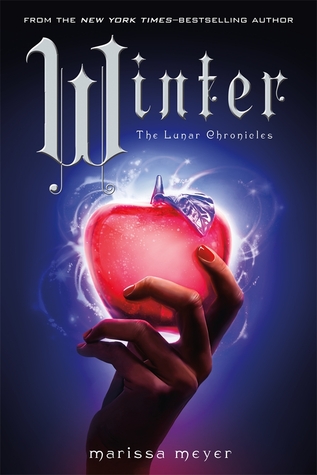 Midnight Hour by C.C. Hunter
This book series is life and while I am sad that it's the last book in the series, I am also happy that Miranda finally gets her own story!
What was the last book you marked as to-read?
When Michael met Mina by Randa Abdel-Fattah
I saw this book in a post by Reg @ She Lattitude, it sounded really interesting and like something I'd like so I immediately added it to my TBR list! And btw apparently I forgot to mention Reg in my 'New York Times by the book Tag' post , so here's the updated post. Sorry Reg!
What book do you plan to read next?
Since my last post I decided that I'll probably read Illuminae by Amie Kaufman and Jay Kristoff! I just need something different and I think this will be a great, different, interesting book to read….but I never know which ebooks might cross my path 😉
Do you use the star rating system?
Yes I do! When I created my blog I actually wanted to come up with a different rating system but in the end I just decided to stick with the good old star system! I just think it's a great universal way to rate something, that everybody understands! 👍🏼
Are you doing a 2016 reading challenge?
Yes I am, but sadly I had to lower my goal recently…. I am extremely busy with school (German school doesn't mess around 😅) so I can't get anything done – I only published 5 posts this month and that's just sad!
Do you have a wishlist?
Yes I do but usually it's quite short because I like to just let the books find me – unless it's one of those auto-buy authors!
What book do you plan to buy next?
Well the one I KNOW I am going to buy is A Veil of Vines by Tillie Cole, as she is an auto-buy author for me! But in between that I'm sure I am going to buy other books, I just do not know them yet!
Do you have any favorite quotes? Share a few.
This slideshow requires JavaScript.
Who are your favorite authors?
Amongst a few others they are: Tillie Cole, Marissa Meyer, C.C. Hunter, James Dashner, Teresa Sporrer, Jay McLean and Micalea Smeltzer!
Have you joined any groups?
I haven't joined a lot of groups so far and I'm not really active in any of them…. So far I haven't really used Goodreads as a social network, but mainly as a way to organize my books 😅
Thank you guys for reading this post and I hope you enjoyed it!
I tag:
If you have already done this Tag feel free to decline, if not I hope you'll have fun with it!!